Eagle I Stallian & Quilla – Get It Right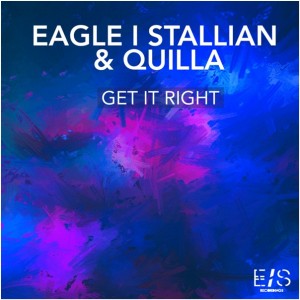 Fast emerging Canadian duo Eagle I Stallian have been making huge noises since exploding onto the Dance music scene. Heavily influenced by their passion for music, travelling and meeting new people, they have been creating some of the scene's hottest Progressive House and Trance bombs. Responsible for hits like 'Connection Made', 'World's Collide' and 'Metric', they have been gaining monumental support from industry tastemakers like: Above & Beyond, Judge Jules, Jaytech and Myon & Shane 54 – achievements many aspiring artists can only dream of reaching.
Teaming up with Eagle I Stallian is stellar singer-songwriter Quilla. The Canadian-Peruvian artist has been behind some of the scene's most successful vocal tracks in the past few years, having collaborated with heavyweight names like: Tiesto, Sultan + Shepard, Jewelz & Sparks and Heatbeat – it's no surprise that she has released on renowned labels like: Armada Music, Revealed Recordings, Ministry of Sound and Musical Freedom.
Their time in the studio together has resulted in 'Get It Right', a Progressive gem that is sure to make waves in clubs and festivals worldwide. Full of mesmerising melodies, lush chords, euphoria and Quilla's emotional vocals, 'Get It Right' has everything needed to become an early summer hit and is certainly a must for any DJ's record collection. 'Get It Right' will be released via Eagle I Stallian's emerging new imprint EIS Recordings and is now available in all the stores as from June 10th. 
Listen on Soundcloud
https://soundcloud.com/eisrecordings/eagle-i-stallian-quilla-get-it-right-original-mix
Purchase Here
https://www.beatport.com/release/get-it-right/1774159
https://itunes.apple.com/ca/album/get-it-right-single/id1114791431
Eagle I Stallian Online
http://www.eagleistallian.com
https://www.facebook.com/eagleistallian
https://twitter.com/EagleIStallian
https://soundcloud.com/eagle-i-stallian
https://www.instagram.com/eagleistallian
https://www.youtube.com/user/eagleistallian
Quilla Online
http://www.quillamusic.com
https://www.facebook.com/quilla.music
https://twitter.com/Quilla
https://soundcloud.com/quillamusic
https://www.instagram.com/quillamusic
https://www.youtube.com/user/QuillaVideos
EIS Recordings Online
https://www.facebook.com/eisrecordings
https://twitter.com/EISRecordings
https://soundcloud.com/eisrecordings
https://www.instagram.com/eisrecordings
https://www.youtube.com/channel/UC3tJ5Nvm9HQM9WU8AguTHbQ
Social Links