JOE LE GROOVE MEETS… JEFF MILLS
The Guestlist Network's in-house DJ writer, Joe Le Groove caught up with the techno legend Jeff Mills to chat about new projects and the clubbing world…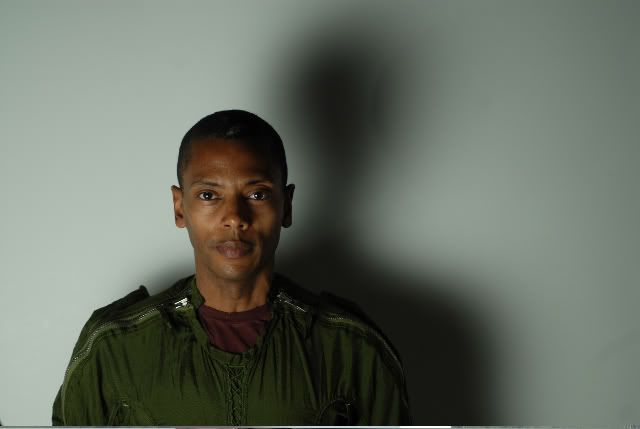 Joe Le Groove: What's going on with the drummer 26 project?
Jeff Mills: That started way back in my past; I wanted to be a professional jazz drummer when I was younger. At some point were interested in djs where also interested in drummers. My mother used to throw shoes at me from the noise that I was making.  For all of my life I always wanted to own an 18 piece drum kit (pearl), I wanted to go back to the mid 80's where a lot of the Chicago house labels used to release bonus beats and they would take a drum machine and make tracks for the utilities for the usage of djs as tools.
Joe Le Groove: Those tools and many other that followed assisted in the birth of early breaks and what has now as  drum and bass
Jeff Mills: Exactly, those type of tracks when I was younger where very much desired at the time by all djs. The sexiest drum machine of all in my eyes is the 808. So I developed a series of drum loops based on that Roland Module
Joe Le Groove: One of my friends called Paradox has  been touring for many years, his music is based on  reprogrammed drum loops from the late 60's, 70's, 80's and his own. You should check him out and several other drum and bass producers that share our mutual passion for drums…
Jeff Mills: cool, defiantly send me some of that stuff that sounds cool.
Joe Le Groove: What equipment are you currently using to Dj with?
Jeff Mills: I don't think I will go down the laptop route not unless the software does some really amazing stuff. Right now im using Cd's as im playing all masters. In my studio I master to CD and its all original material. Most of the stuff won't be released because it's just made for me to play. Surprisingly because I don't have to worry about it being pressed to a record or a CD, the finished product and style is different. If I know it's just for me to play then I don't have to be worried about it being so perfect in certain areas, it can be rough raw and edgy etc. I'm travelling with a lot of stuff like that. There is a project that im working on for later this year and next where im using all vinyl again. All the vinyl's are a certain colour that relates to the concept of what it includes. The project is called Tomorrow Plus X. There are two colours, black and white.
Joe Le Groove: You also have a film project called something in the sky?
Jeff Mills: Ufo-ology is another interest that I have, I finally got around to making a project that involves music, film and performance based on that subject. What it deals with is where the music is indirect, its not trying to describe what UFO's sound like but much rather the type of intense atmosphere that seeing or encountering an UFO might create. The music has been designed to be the back drop for such scenarios, the astonishment and the amazement of such scenarios. The music is not direct it's very indirect. The performances are basically documental films about UFO's, sightings and amateur footage that people have taken of actual UFO's.
Joe Le Groove: Is that finished?
Jeff Mills: yeah, it's done, I had one in Detroit with Mike Banks and the next one will be in Torino in Italy in a couple months, it's a really interested project because no matter whom you are, where you live and what you do, it affects you. The idea that we are not alone, is something that music doesn't really fully capture it, the reason that I wanted to make the music indirect is because music will probably fall short of capturing the experience when you really see something. I believe that the subject is much further that I can comprehend, so I'm trying to nudge people in that direct to at least think about it and to kind of prepare to discover that we are not alone……
Joe Le Groove: What do you do to chill out when you are not Djing or in the studio? If you look at your gig schedule you are always touring somewhere!
Jeff Mills: It's probably kind of difficult for your readers to understand, there is no break time. I'm married and I have daughter of 16, luckily my family understand that my life is tied to my career so there is no down time but sleep. I go from Europe to the States and then i'm constantly in the studio. I know so far that it's probably more healthy than unhealthy to have something to think about as I get older.  Coming up with new ideas and concepts to make new music is not something you can put an age on, all I have to do is make sure that i'm in a position that I can think I can still pres the keys of the keyboard. It's not a sad thing but it's unusual to many people that there really is no down time.
I know based on other artists & other genres like Jazz, Rock etc that after a certain point many people slow down moving forward and start and reverting back to things that they have done earlier in their careers. I'm trying to do the opposite; I don't want to just go back to Underground Resistance, The Wizard and all that stuff. Our generation is like the 2nd generation of DJs.  I'm trying to see how far I can really go physically and mentally before I naturally can't do it any more. It's only rare in a few cases that artists still create new things all the way till the end. Its kind of a bet that I i'm betting on myself that maybe I can do it if I put my mind in the right place. Reading science fiction and getting involved with film and at some point I want to teach music theory if someone will have me. I think that will probably make me understand more about the process on how ideas are developed.
Joe Le Groove: Which will probably give you some insight into how you as a person developed your own skills to become Jeff Mills that everyone respects today?
Jeff Mills: Exactly Joe, out of all the raves, parties, clubs, album and the tours that we have had, you very quickly see what was most important and what is essential to be explained to people to give an understanding and some true insight.
Joe Le Groove: What do you think about the clubbing in general, starting with the US?
Jeff Mills: I think the US was great was lucky enough to do things and make it attractive for people for it to rise to a certain level. With the advancements of technology I have been waiting for some change to really enhance the club setting, to make it much more exciting and very different to what we have now. Going out every time we should be seeing and feeling a vast difference from what we experienced many years ago.
Joe Le Groove: I agree, too many clubs don't spend enough money on what matters. Things like advanced lighting and sound that will push the boundaries of the clubbing as we know it is not on enough club's lists. Some clubs can't afford it and the ones that don't generally spend it.
Jeff Mills: that's true Joe but it also goes beyond that, if we thought about the overall objective we have to look at what exactly what people want to feel. The technology is there, the clubs needs to listen to people with these far out ideas in order to push clubbing/raving as we know it. Too many clubs these days are half stepping….
Joe Le Groove: So, why don't you, Derrick May and Carl Cox and a few others open a club to do exactly that?  The club would be the first of its kind and it would revolutionise clubbing as we know it.
Jeff Mills: (Laughs) … yeah there has been a few discussions with a few of us about that. Nobody knows the situation of club better than us Djs. Even better than the club manager and the promoter but unfortunately I have never been asked, when I try to materialise these thoughts in full its always in somewhere like Tokyo. They understand that to make something special you have to plan for it.
Joe Le Groove: What other types of electronic music do you like besides house and techno?
Jeff Mills: ummm, I listen to anything which is really exceptional in what ever form it is, it could be Jay-Z, Flying Lotus or Gospel, Right now im into to Philip Black  (the later stuff)
Joe Le Groove: What about people like Courtney Pine? I have spent most of my life over here in the UK and I have grown up meeting and respecting British talent like that.
Jeff Mills: Most definitely, also people like Sun Ra. Im more interested in finding out information about him as a person and what he was thinking. Things like his band members never saw him sleep ever. I'm trying to find out more about this genius that was originally from Chicago…..
Joe Le Groove: Thanks for taking the time to catch up with us today and hopefully catch up soon…
————————————————————————————————————————————————————
YOU CAN READ THE FULL INTERVIEW IN THE GUESTLIST NETWORK ON PAGES 26-27 HERE
Catch Joe Le Groove at Redlight Afterhours now at Platinum every Friday from 1:30am until very late.
His label Brake Horse Recordings, sees its 1st release out on Beatport next week entitled Radikal Groove presents The Lost Files EP vol 1. You can also check his remix which is out 22nd september on world sound recordings (JOE LE GROOVE VS DONEWRONG ) with support from Funkagenda, Roger Sanchez, Wally Lopez, Thomas Gold, Ian Carey…