Review of WHO? WHO?
Fri 13th July 2010
The new night at CARGO Who? Who? was described as: "London's original talents showcasing their band, labels, and dj collectives and much more.! For the Launch we have 2 parts the 1st with an live performance with the Modernists with full band featuring Don – E, Elisha Laverne, Lifford David Shillingford, Max Odonnell, Toby Mclaren, Francesco Mendolia, Katherine Amy. As the 2nd part we head in to a clubland atmosphere at Cargo with Muak's & Blowineast's resident DJ Manish who will be housing it up with Matthew Bandy from (Tribe / Limestone) and DJ Dove from Drop."
This kind of thing makes weasel very interested. Very interested indeed! I likes live and I likes DJs, so naturally wanted to check it out. The fact that the night was set up and organised by Zaki and Manish (better known for co-running the brilliant MUAK, People Together and Blowin East) was an extra tasty nugget thrown in the deep fat fryer. The night also promised DJ sets by Zaki and Manish themselves, Matthew Bandy (nice), DJ Dove and spoke of a VERY intriguing live act called the Modernists.
So… We arrived at CARGO for around 10:30om and the place was ramma-jam pack-out! We made our way straight into the live arch and rather annoyingly it was right in the middle of the 1st track by the Modernists.. Gah! One of the main things I'd come to see! AND it was the main tune Iwas looking forward to seeing live  – typical me innit! (you can see the video to the track here)  As I say The Modernists were the live act on the bill and I was really excited about seeing them after reading their PR info. I'd done a bit of nosing around before the gig you see (yes weasel likes a nose as you all know), so I could find out what they were about – I was massively impressed by what I had heard.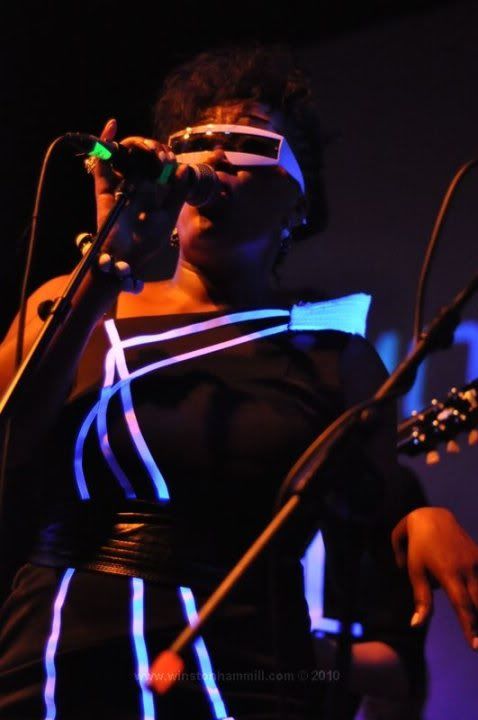 "A live concept ALBUM/GROUP put together by Druw + Perez to turn the industry upside down! We aim to put the show back into 'Live'.. No more standing around posing on stage.. No more all songs sounding the same.. No more boring outfits.. No more boring lighting.. No more audience standing around looking bored.. We're going to blow you away with our original songs and dance moves and outfits and light show!!!! So when you leave the gig you will have had an experience!! A night to remember!! This is a pledge by THE MODERNISTS!!".
A bold statement indeed but they didn't disappoint! My mate on the night descibed them as "live house music" but I think its more than that. Many, many elements of sound going on here house, soul and a twinge of acid jazz, very hard to pigeon hole these guys! As we walked in they had created such an atmosphere in the darkened room – moody basslines resonated off your rib cage and whole room felt electic. The lights were dimmed down very low, bar some UV lights. All members of the group (full band + special guests) were dressed in black and white outfits and white glasses, which the UV light picked out in a very menacing way (I have later found out that the whole group was styled by the lady who does the costumes for the West End musical "Wicked".. Wicked indeed!). The whole group were moving in time to the bass line and the ladies vocals (Elisha Laverne and Katherine Amy) were soulful, powerful, sweet and gave you goose bumps, (or duck humps as my very cute Brazilian pal calls them!)
They were later joined with guest vocals from Don – E, Lifford David Shillingford, Max Odonnell, Toby Mclaren and Francesco Mendolia. Each guest vocal was as good as the last, the tunes slid from genre to genre so you didn't get bored of each track sounding the same. The main thing was the crowd were actually dancing as they would if a DJ was up there, and the group actually looked like they were having a ball – which is always nice! My fave part (and my 2 pals would agree too) was their crazy guitarist and co-founder of the group Druw. This guy is absolutely nuts (in a good way) and you find yourself drawn to him the whole gig.. What a showman! My advice is that next time you hear of these guys playing anywhere – be sure you get down and see them.. You wont regret it and will remember the show for a long time to come.
When the band had finished the night slipped straight into the DJ sets seamlessly. After a while we had to sit in the garden for a bit to cool down, as we went a bit mad with the old dancing! Its so nice to hear what I would call "proper" house music these days and for the crowd to reflect the happy vibes that the tunes are giving out. I for one will DEFINITELY be in attendance for the next Who? Who? and I think that goes for the peeps that were with me too.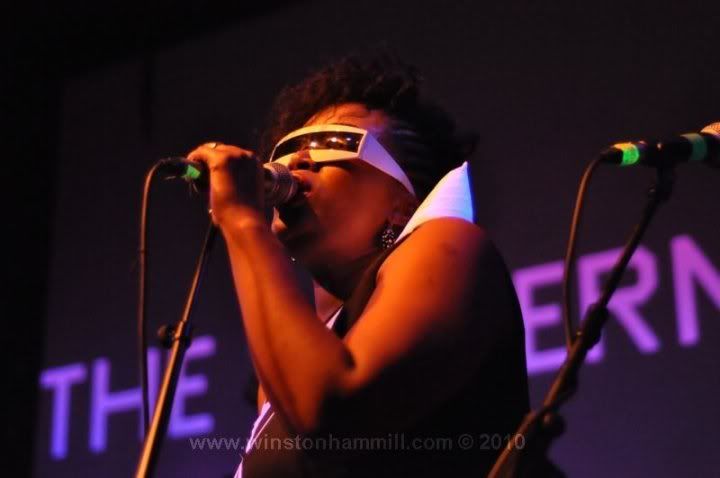 ————————————————————————————————————————————————————-
The next Who? Who? is on Friday 3rd September from 10pm-3am at CARGO
Cargo/ Kingsland Viaduct, 83 Rivington Street, London, EC2A 3AY
Free before 10pm, £10 thereafter